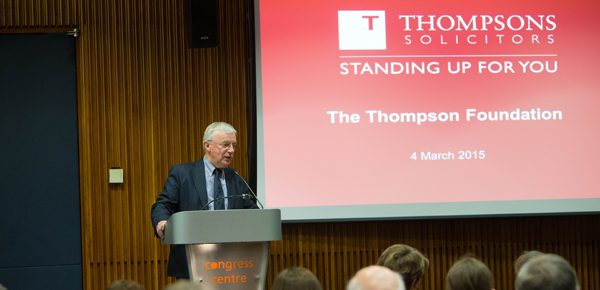 In March 2015, joined by eminent colleagues from across the trade union and labour movement, we launched the Thompson Foundation to mark the retirement of David Thompson from the firm.
David's retirement marked the first time in our 95 year history that no member of the Thompson family would be working for the firm, which was established by David's grandfather W.H. Thompson.
Since its foundation in 1921, Thompsons has been constant in its aim to be the leading legal adviser to the trade union and labour movement.
We established the Thompson Foundation to maintain the firm's links with the Thompson family and to guarantee in perpetuity our unique constitutional commitment "to assist trade unions and their members and not to earn Members the maximum income which, in general practice (including work for more affluent clients), they are capable of earning."
David made a huge contribution to the firm's development and success. We are delighted that the Thompson Foundation will maintain his connection with the firm.
David Thompson, said: "I am proud that the Thompson Foundation will underpin the firm's continued commitment to the trade union and labour movement, provide bursaries to support aspiring trade union lawyers and hold an annual lecture by an eminent figure on issues concerning trade unions."