The firm's asbestos disease teams raised £900 for Mesothelioma UK's annual fitness fundraising challenge.
Thompsons' asbestos disease teams have raised £900 for Mesothelioma UK, with an additional £207.50 going to Gift Aid, by walking and running hundreds of kilometres.
The firm's legal teams united to take part in 'Move for Meso', an annual challenge that encourages people to raise their heart rates and much-needed funds for the charity by setting themselves a fitness challenge of their choice.
Between June and September, Thompsons staff ran and walked over 300km to raise awareness and £900 for people affected by the fatal asbestos-related cancer – smashing their modest £250 target.
Among the firm's fundraisers was Beth Liddle, a trainee solicitor in the asbestos team in Thompsons' Newcastle office - an area heavily impacted by asbestos diseases. She completed 12 of the Lake District's Wainwrights in two days during August.
Meanwhile, Nicholas Seymour, a specialist asbestos lawyer who manages Thompsons teams in Bristol, Cardiff and Plymouth, hiked Wales' highest mountain, Snowdon, and Nicola Harrison, regional manager for Yorkshire and Humberside, completed the Robin Hood Half Marathon in Nottingham.
Beth Liddle, who completed 12 of the Lake District's Wainwrights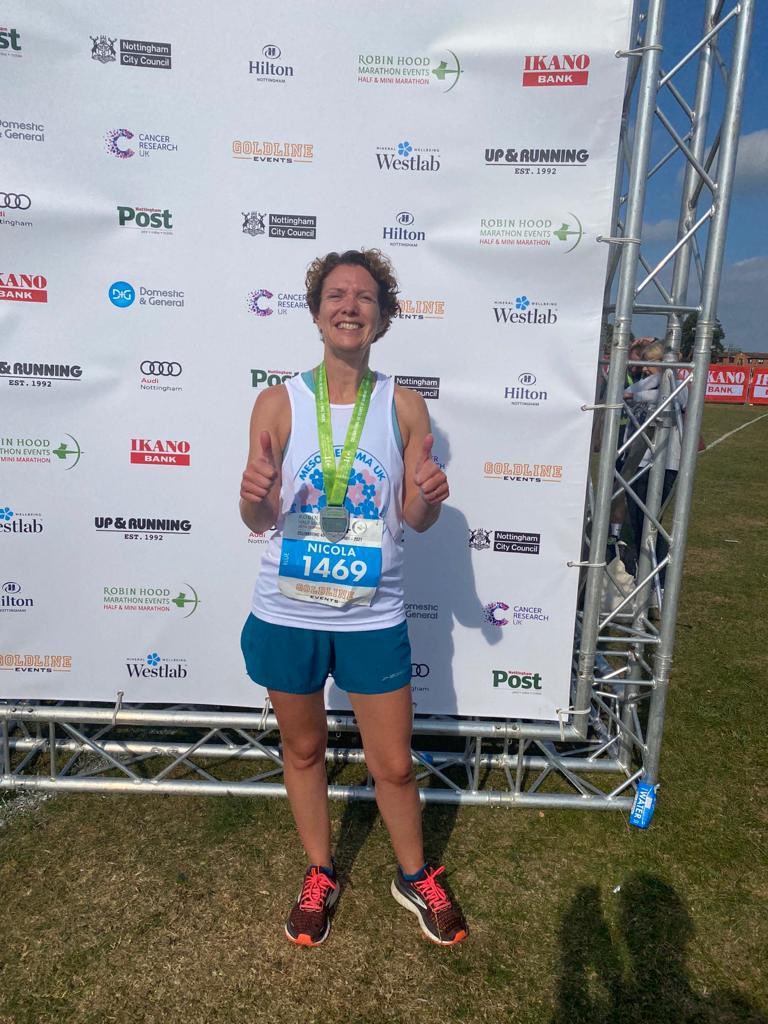 Nicola Harrison, who completed the Robin Hood Half Marathon in Nottingham
"What an achievement," said Tony Hood, head of asbestos strategy at Thompsons. "I'm so proud of my colleagues for all they have done to raise funds for Mesothelioma UK this summer.
"We represent so many people living with asbestos-related disease and know how important the services and support offered by charities like Mesothelioma UK can be. It has been a particularly difficult period for cancer patients and the charities that support them, so it's wonderful to see my colleagues rally together to show their support."
Mesothelioma UK is a national specialist resource centre specifically for the asbestos-related cancer. It provides information, support and education, integrating into NHS front line services to ensure specialist mesothelioma nursing is available to those who need it.
Thompsons Solicitors, which won the first-ever asbestos compensation case brought to the House of Lords back in 1972, is one of only a handful of law firms across the country on Mesothelioma UK's legal panel in recognition of its significant expertise in fighting for the rights of asbestos victims.
---
Asbestos disease diagnosis? Talk to us for advice and support on how to secure compensation.
If you or a loved one have been diagnosed with an asbestos-related disease, we can support you with advice on how to make a claim.
The process will be explained in plain English and with no obligation – our priority is to provide you with the best, expert advice on whether you have a valid case for compensation, and to signpost you to further sources of support.
There are strict time limits applied to making a claim – usually three years from the date of diagnosis. It doesn't matter if the exposure to asbestos took place – as it often does – decades ago, the three year time limit applies to the date of knowledge of diagnosis or date of death.
For further information, visit our How to Make A Compensation Claim page.