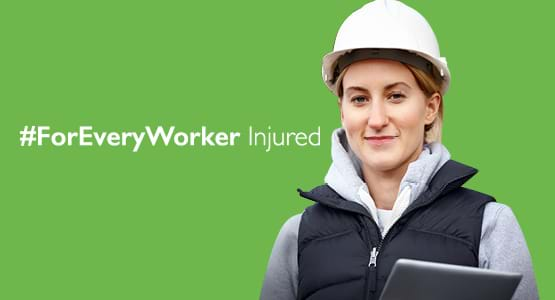 If you've been injured in an accident at work, don't be left behind. Speak to Thompsons Solicitors, the workplace accident solicitors who are there for every injured worker.
Some personal injury solicitors act for people injured in work accidents, as well as advising employers who are contesting accident at work claims. 
We reckon there's something in the old saying 'you don't bite the hand that feeds you', and we've never understood how lawyers could, on the one hand, act for an injured worker and on the other also be an independent firm giving advice to insurers who defend claims. That's why we have our pledge.
Standing up for every worker injured
Thompsons has only ever acted for workers who have been injured or mistreated – never for employers, and never for insurance companies.
We also have a long and proud history of providing legal services to trade unions and their members, and together we work with unions to make workplaces safer for everyone. While accidents at work remain an unfortunate reality, Thompsons Solicitors helps to reduce accidents by making sure every worker has access to the best workplace accident lawyers who can offer legal advice if they're injured during an accident at work, and want to make a claim for compensation.
Advice for every worker injured
Some people will go their entire career without suffering a work-related injury or making an accident at work claim. However, for thousands of workers every year, workplace injuries are a daunting, and unfortunate, reality. Getting the right advice about an accident at work claim early on, from the best lawyer, is crucial. Thompsons Solicitors has specialist accident at work lawyers based across the UK who are on hand to offer free, no obligation advice to injured workers who are thinking about making a claim.
You can find more information about making an accident at work compensation claim by reading our guide and these frequently asked questions about workplace accident claims. 
Protection for every worker injured
You deserve to be protected from harm while at work – as does every worker. Making an accident at work claim draws attention to risks in the workplace that might otherwise go unnoticed, or unaddressed until something else bad happens to somebody else. You may, for example, have heard after your workplace injury took place that "that floor was always uneven" or "I knew that fork lift was unsafe" – don't you wish someone had spoken up before you'd been hurt? 
By recording your accident in an accident book, speaking to a health and safety or union representative and starting an accident at work claim, you could help to prevent other workers from suffering the same injuries in future. Help enhance the protection for every worker, and start a claim.
Compensation for every worker injured
Some people may feel apprehensive about making an accident at work claim. Maybe you feel put off by what insurance companies say in the newspapers about a "compensation culture". Maybe you're worried about what your boss will say.
It's worth remembering that employers have a duty to keep their workforce safe: getting home safely at the end of the working day is your right. You shouldn't have to apologise for making a claim. If you've been hurt at work because safety standards fell short, we don't want you to feel embarrassed or awkward about making a claim for your injuries and for lost earnings. A specialist accident at work lawyer, acting independently for you and in your interests, can help. Thompsons Solicitors helped establish the Health and Safety at Work Act 1974, you don't get much more specialist than that.
Support for every worker injured
If you do decide to make a workplace accident claim with Thompsons Solicitors, a dedicated and experienced solicitor will be assigned to act for you. We understand that if you're unable to work after an accident, you will have more than just your injuries on your mind; we'll help to signpost you to other sources of support along the way. Our priority is providing our clients with access to the right financial support, rehabilitation and treatment as quickly as possible – building solid cases for compensation using expert medical evidence and making prompt applications for interim payments.
Ready to talk?
If you have been injured at work, call our team on 0800 0 224 224 for no obligation advice, or complete our simple online claim form.