How Thompsons Solicitors can help you make an Industrial Disease claim
There are many types of industrial diseases that can develop after exposure to dangerous substances in the workplace or unsafe working conditions.
Examples of industrial diseases include respiratory and lung disease, skin disease, vibration injuries and occupational cancer, including asbestos-related diseases. The six most common industrial illnesses are hand vibration syndrome, industrial deafness, silicosis, asthma, latex allergies, and dermatitis.
At Thompsons Solicitors, we have experienced teams of industrial disease solicitors based across the UK and we have run more industrial disease cases than any other law firm. Thompsons has led the way in industrial disease claims, running the test cases that established much of the law today.
We are proud to act only for the injured or mistreated. We have never worked for employers or the insurance industry, and we never will. Here are a few more reasons why you should trust us with your industrial disease claim:
We work hard to secure the maximum amount of compensation in the shortest possible time
We ensure any compensation awarded includes provision for your immediate and future needs
We will put you in touch with medical and rehabilitation experts to ensure you or your loved one get the best possible care and support throughout.
Thompsons Solicitors has a long history of fighting for the rights of injured workers and has a wealth of experience in dealing with claims for people who have developed industrial diseases. If you are unsure if you have an industrial disease claim, call our legal team on 0800 0 224 224 for free advice.
What you need to know about Industrial Disease claims
What is an industrial disease?
An industrial disease is a condition or illness caused by exposure to dangerous substances or unsafe conditions in the workplace. Some employees with a pre-existing condition may also find their symptoms worsen because of an employer's poor health and safety. 
Can I make an industrial disease claim?
Employers have a duty of care to their employees to protect their health, safety and wellbeing. If they fail in that role, and you are injured or fall ill as a result, you may be entitled to make an industrial disease claim.
Industrial disease claims are often more complicated than other personal injury claims. The cause of the illness or injury could have occurred years earlier and expert evidence may be needed to prove a link between the illness and employment. For this reason, it is important that you choose an experienced solicitor when deciding to make an industrial disease claim.
If you are looking to make an industrial disease claim, contact us for free, no obligation advice from our expert lawyers. Call us on 0800 0 224 224 or complete our online claim form.
We supported David after he developed occupational asthma as a result of working in close proximity to mould spores.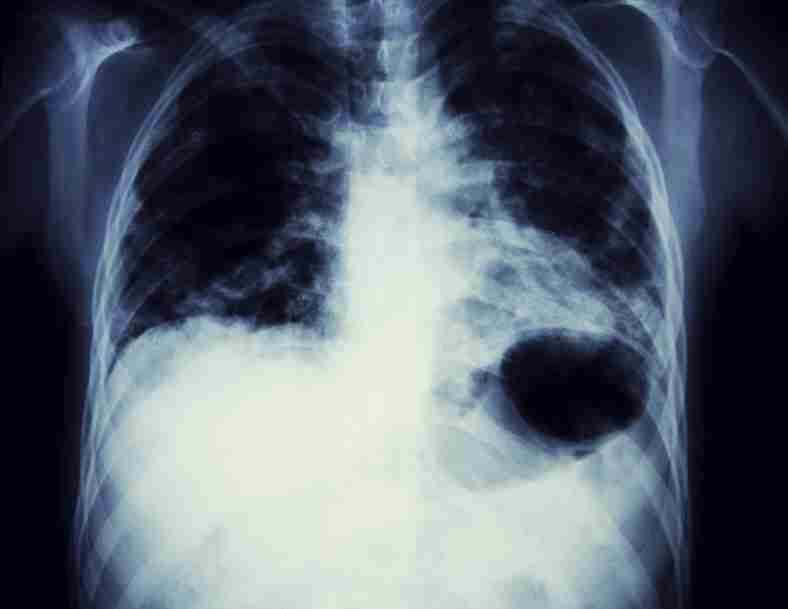 Our industrial disease lawyers have supported clients who have developed lung cancer after exposure to hazardous substances at work.
Frequently asked questions about Industrial Disease claims
If the incident that caused your illness or injury occurred within the last three years, you may be able to make an industrial disease claim. You may also be able to make a claim even if the exposure occurred more than three years ago or if you only became aware of or were diagnosed with the illness within the last three years. Contact our solicitors today for advice.
If you, or a family member, belong to a trade union, your membership will provide you with free specialist advice from Thompsons Solicitors. To make a claim, you should first contact your union representative who will then put you in touch with one of our dedicated industrial disease lawyers who will progress your compensation claim. Trade union members receive 100% of any compensation, with no deductions for legal fees.
If you are not a trade union member, there are many ways to fund an industrial disease claim. Thompsons Solicitors can talk you through the available options, which include a 'conditional fee agreement', commonly known as 'no win, no fee'.
For more information, visit our fees and payment page or talk to one of our friendly personal injury lawyers on 0800 0 224 224.
If your industrial disease claim is relatively straightforward, your industrial disease claim could be resolved in months, but typically complicated industrial disease claims could take years. However, Thompsons Solicitors' specialist lawyers always fight for the maximum compensation in the shortest possible time.
Industrial diseases very dramatically in severity. Generally, the more severe the illness or injury the more compensation is awarded. For example, those with vibration white finger or hand arm vibration syndrome could be entitled to between £2,000 and £29,000 depending on a range of factors. Speak to our industrial disease solicitors for an informed estimate - we will always be open and transparent about the likelihood of your case being successful.
When pursuing an industrial disease claim with us, we will charge a 20% success fee which will include the cost of any insurance we advise you take out. Other industrial disease law firms will likely charge a 25% success fee and insurance fees on top of this, as well as any unrecovered fees and disbursements.
Here's how we compare: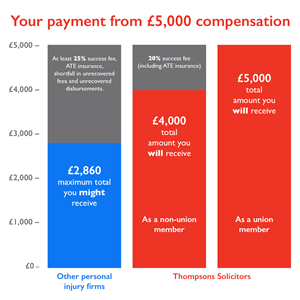 Once your industrial disease claim has settled, before or after trial (typically before), we will keep the pressure on the insurers who are due to pay out and get you the settlement as soon as possible.
Thompsons Solicitors has more experience of winning personal injury claims than any other UK law firm, having successfully fought for hundreds of thousands of people since our foundation in 1921. Each year, we secure hundreds of millions of pounds in compensation and help put clients in touch with life-changing specialist support services. Thompsons Solicitors' expert industrial disease solicitors are ready to help you to start a claim now.