Can I make a cerebral palsy compensation claim? 
Cerebral palsy compensation can provide the financial support you need to care for your child.  
To win your case, we will need to demonstrate that medical staff failed in their duty of care to you and your child – this is known as medical or clinical negligence.
If your child has cerebral palsy due to insufficient medical care, you can make a claim for compensation.
Can I get legal aid?
Legal aid is available for cases where cerebral palsy has been caused by medical negligence in the first eight weeks of a child's life.
Can I make a no win, no fee claim?
If you aren't eligible for legal aid, there are other ways to fund your case. We can take your case on a no win, no fee basis, so you won't have to pay anything if your case is unsuccessful.  
We also cap our fees, so if you win your case - which most of our clients do - you will never be charged more than 25% of your compensation amount.
Bilaal's Story
A series of complications at the hospital where Bilaal was born resulted in life-changing consequences. Our medical negligence experts fought to secure compensation for Bilaal and his family.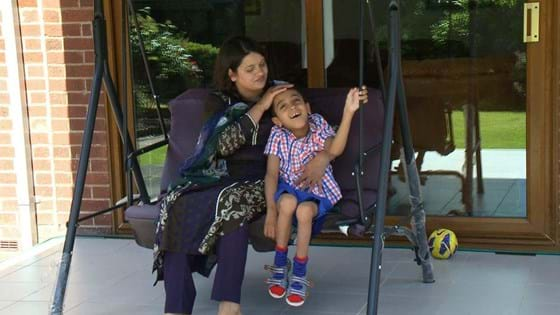 Bilaal's Story
"When we found Thompsons, we also found our solicitor. The support she has given us is fantastic. She is not just our solicitor. We never felt she was there just for legal services. She has always been like a family member to us."
- Nabila, Bilaal's mother
Cerebral palsy compensation amounts
Our solicitors have an excellent record of claiming significant awards of damages for our clients, including:
£23 million for a 10-year-old boy with severe learning difficulties who required 24-hour care
£14 million for a child with brain damage sustained at birth who required a full care package and adapted accommodation
£12 million for a child with a low level of understanding who had to receive peg feeding.
These life-changing funds enable families to access occupational therapy and treatment from medical experts, pay for special education and home adaptations, and allow parents to step back from work to care for their child.
Expert cerebral palsy solicitors
Our specialist team of medical negligence solicitors are highly experienced in securing compensation for all kinds of birth injuries, including cerebral palsy. Many are members of the Law Society and Action Against Medical Accidents (AvMA) specialist panels.
We know that this situation can put a lot of strain on families. Our experienced solicitors will treat you with kindness, compassion and empathy, supporting you through every step of the process while fighting for the compensation you deserve.
Our Cerebral Palsy Solicitors
We understand how devastating a cerebral palsy diagnosis can be. If you're ready to talk about your case, one of our medical negligence lawyers would be happy to help.
Call us on

0800 0 224 224
Why choose Thompsons?
At Thompsons, we have been fighting for the injured and mistreated for over 100 years.
Unlike other law firms, we have never, and will never, act for insurers or defendants in medical negligence claims. There is no conflict for us about who we work for – we are totally on your side.
We have an excellent team of medical negligence lawyers who can support you with your cerebral palsy compensation claim – in fact, the Times has named us as one of the UK's best law firms for personal injury and medical negligence claims for four years running.
We understand that children with cerebral palsy need specialist support as early as possible in order to give them the best quality of life. That's why we believe in doing more than simply securing compensation for our clients – we have close links with cerebral palsy support groups and can put you in touch with people who can help you and your child.
We also have a history of campaigning for better treatment for those with brain injuries and conditions like cerebral palsy, working closely with charities like Headway, Cerebra and Cerebral Palsy Plus.
The solicitor took the time to listen to all my concerns, fears and experiences, and I instinctively felt I was talking to someone who for the first time had both the medical knowledge and expertise to understand my concerns and validate them.

Our cerebral palsy client
Frequently asked questions about making a cerebral palsy claim
Cerebral palsy is a term used for neurological conditions affecting a child's movement, which is usually caused by complications before, during or soon after delivery.
In many cases, the specific cause of cerebral palsy cannot be identified. However, complications that can lead to cerebral palsy include a bleed within the brain, the brain being deprived of oxygen, or the mother catching an infection or developing a condition like hypoglycaemia while pregnant.
These complications can result in brain damage or abnormal development of the child's brain, which can cause cerebral palsy.
Cerebral palsy can also occur when a child develops an infection such as meningitis or suffers a head injury during their early years of life, as these situations can also cause issues with brain development.
Cerebral palsy cannot be cured, however a treatment plan can help the child cope with the effects of their condition and assist their parents or guardians with their care.
There are four main types of cerebral palsy:
Spastic cerebral palsy. People with this type of cerebral palsy have increased muscle tone, making their muscles stiff and tight which means it is difficult for them to move.
Dyskinetic cerebral palsy. The muscle tone of people with this type of cerebral palsy can change from too tight to too loose quite rapidly. This causes uncontrolled body movements or spasms.
Ataxic cerebral palsy. People with this type of cerebral palsy struggle with balance and co-ordination, resulting in shaky or clumsy movements.
Mixed cerebral palsy. This is when a person has symptoms of more than one type of cerebral palsy. The most common combination is spastic-dyskinetic cerebral palsy.
Other terms to be aware of that describe the areas of the body affected by cerebral palsy, include:
Hemiplegia - this means one side of the body is affected by the condition. In most cases of hemiplegia, the arm is affected more than the leg.
Diplegia – this refers to cases where two limbs are affected. The limbs most commonly affected in these cases are the legs.
Monoplegia – this is where one limb is affected.
Quadriplegia – this is where all four limbs are affected. With quadriplegia, the whole body is usually affected by the condition, which means the patient often has other developmental problems.
The symptoms of cerebral palsy normally become noticeable during the first few years of a child's life and can vary in severity. According to the NHS, symptoms can include:
Walking on tip-toes
Delays in reaching development milestones (e.g. not walking by 18 months old)
Weak limbs
Moving stiffly or being too floppy
Uncontrolled movement
Difficulty swallowing
Issues with vision and speech
Learning difficulties or behavioural problems. 
According to the charity Cerebral Palsy UK, 1 in 400 babies in the UK are estimated to be affected by cerebral palsy. With a birth rate exceeding 700,000 per year, figures suggest there could be as many as 1,800 cases of cerebral palsy each year.
While in many cases cerebral palsy is not caused by the actions of medical professionals, there are a number of ways in which the condition can be a result of clinical negligence.
For example, a lack of oxygen to the brain can cause the condition. If there are complications during birth which mean the baby is not receiving enough oxygen, an emergency caesarean section is usually required. If medical staff fail to notice the complications or fail to perform the caesarean in a timely manner, their negligence could result in the child having cerebral palsy.
The mother having an infection during pregnancy and birth can also result in cerebral palsy. If such an infection occurs due to substandard medical care, or if medical professionals fail to diagnose or treat the infection in time, the child is at risk of cerebral palsy due to their negligence.
Essentially, negligence has occurred where there has been a failure to diagnose and treat issues in an appropriate timescale, or there has been sloppy treatment which causes infection or other conditions which can lead to cerebral palsy. If this has happened to you, it is your right to claim compensation.
The first step to making a medical negligence claim is to get in touch with our legal experts.
Complete our online claim form, request a call back or call 0800 0 224 224 for free, no-obligation legal advice about your situation.
Our lawyers will be able to advise on whether you have a claim, and explain in detail the process of making one. They will also be fully transparent about any and all fees you may have to pay, and go through your payment options, such as a no win, no fee arrangement.
It is completely your decision whether you wish to progress your claim. If you do, we will be able to start developing your case and give you an estimate of the compensation amount we think you could be awarded.
It's very important that the person or firm you choose to represent you has relevant experience in similar cases.
Medical negligence is a specialist area of law, especially when considering cases involving children, and you will want an expert in the field to represent you.
Our team of clinical negligence lawyers is highly specialised and experienced in this area of law, and has secured compensation for hundreds of people in similar situations to you.
The amount of compensation awarded depends on many different factors.
Generally, the more severe your child's cerebral palsy is, the greater the amount of compensation you could receive.
The impact on your life will also be considered, as well as any financial hardships suffered as a result. For example, if you have had to stop working to properly care for your child, you may be compensated for loss of income.
You should also be given money towards appropriate treatment and care for your child, such as occupational therapy and adaptations to your home. The more this treatment costs, the more compensation you should be awarded.
Every case is unique and, as a result, the compensation awarded varies from case to case. However, our lawyers will be able to provide you with an informed estimate of how much you can expect given your specific circumstances.
Lump sums can be obtained to fund accommodation and cover loss of future earnings, however payments for care are often made by way of periodical payments, which means a payment will be received each year during the claimant's life. Periodical payments will be index linked, meaning the amount received will adjust as care costs change over time. Periodical payments provide the whole family with peace of mind, as they ensure that it is impossible to run out of money for care and case management.
Wherever possible, we will also try to secure interim financial support to help you care for your child while you await the outcome of your case. 
A parent or guardian can make a claim on behalf of their child with cerebral palsy any time up until the child turns 18.
Starting from the child's 18th birthday, they have three years to bring a compensation claim themselves. However, if they do not have the mental capacity to make their own claim for compensation, their parents are able to bring a claim with no time limit.
There are only limited exceptions to this rule – if you have any questions, you should contact our cerebral palsy lawyers as soon as possible, so that they can provide you with advice.
Due to the complex nature of cerebral palsy cases, it generally takes between five and seven years for a case to be settled. This is because in many cases medical experts cannot state the level of disability a child will suffer in the future until the child reaches the age of seven or above.
However, every cerebral palsy case is unique, therefore the length of time taken to secure compensation varies from case to case.
Our lawyers understand how essential the compensation is to you and your child, so we will make every effort to resolve your case as soon as possible, while also securing the maximum amount of compensation. Wherever possible, we will also seek to secure interim financial support for you and your child while your case is still ongoing. We can often obtain an admission on breach of the duty of care at a much earlier stage, which will allow us to obtain an interim payment of damages at an early stage to pay for adapted housing. This can make a huge difference to the life of the not only the child, but their whole family.
Discuss your claim
Contact us for free, no-obligation legal advice about making a cerebral palsy claim.
Call us on 0800 0 224 224 to discuss your case with an expert in medical negligence law and birth injury compensation cases.
In this guide we explain the process of making a medical negligence claim for a child
Find out more
If you are unhappy with the level of care you have received you can make a complaint.
Find out more
If you have experienced medical negligence, you may be eligible for compensation. However, there are some time limits for making a claim that you need to be aware of.
Find out more