Workplace Accident Compensation
START YOUR CLAIM TODAY
For a free, no obligation initial assessment about securing workplace accident compensation, complete our quick and easy callback request form.
Simply fill out your contact details, choose a preferred time for us to call, and one of our expert team will be in touch to discuss your workplace accident compensation claim.
Why Thompsons?
We're 100% committed to claimant-only work; we only ever represent the injured, never insurers or employers
We have a long and proud history of supporting the trade union movement and providing specialist legal services to union members
We believe in social justice and invest our expertise into each and every case in order to protect our clients' rights and fight for better working conditions for all
We have a network of specialist solicitors based in local offices right across the UK
We have nearly 100 years' experience in running and winning claims for workers who have been injured as a result of their employer's negligence or unsafe working conditions
We were involved in helping to establish the Health and Safety Act 1974, a key piece of legislation that keeps workers safe
We offer a 'no win no fee' agreement so if your workplace accident compensation case isn't successful, you won't pay a penny. 
Workplace Accident Compensation
Our workplace accident compensation solicitors have helped tens of thousands of accident at work victims and have experience in all types of claims including:
Lacerations and cuts
Workplace burns
Soft tissue damage
Crush injuries
Slips, trips and falls
Serious injuries, including brain and spinal injury accidents
Workplace fatalities.
The amount of workplace accident compensation you will be awarded ultimately depends on the severity of the injury and the impact it has had on your life. However, working with accident at work specialists, Thompsons Solicitors, ensures you will receive the best possible legal advice and the maximum amount of compensation to which you are entitled, in the shortest possible time.
Every claim is unique and while some are settled within a matter of months, other workplace accident compensation claims can take longer. We are able to settle most cases before a court hearing but if the defendant won't adequately compensate our clients, we're known as a firm who won't hesitate to take the case to trial if that's the only way to get the proper compensation our client deserves.
To start your no win no fee workplace accident compensation claim, get in touch today using the request a callback form. Alternatively, complete our online claim form or call 0800 0 224 224.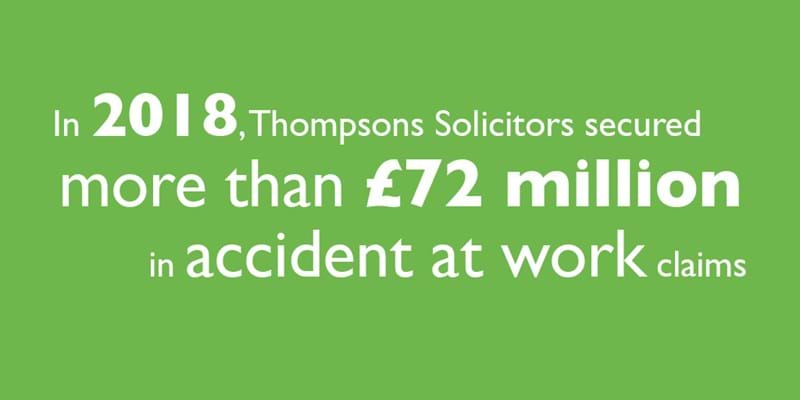 Have you had a workplace accident?
Call our team on 0800 0 224 224 for free, no obligation advice or complete our simple, online claim form
Start a Claim