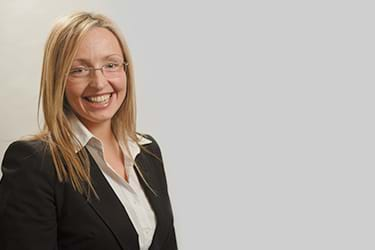 Natalie Harvey
Partner and national fast track centre manager
Sheffield
Natalie is a highly experienced personal injury solicitor who heads up Thompsons' Solicitors National Fast Track Centre, covering the whole of England and Wales, from the firm's offices in Sheffield. 
A Thompsons' Partner, Natalie is responsible for managing the large successful legal team that deals with huge numbers of cases of personal injury claims via the portal system. As an expert in portal claims and the associated procedures and rules, Natalie's team delivers a high quality, efficient, streamlined service to clients injured in accidents either at work or outside. 
At any one time, the team will be handling 9,500 claims. These range from accidents at work, road traffic accidents, trips and slips, assaults, public liability, sports injuries, product liability and animal claims. Natalie aims to get the maximum amount of compensation in the shortest time possible.
Where liability is not accepted, litigation will be pursued on behalf of clients. With Natalie's 20 years' experience of handling personal injury cases through from initial instruction to court proceedings and settlement, Thompson's clients are in safe hands.  Natalie has dealt with complex legal issues and defendants who refuse to accept responsibility for the accidents. 
Having successfully recovered substantial amounts of compensation for a wide variety of claims resulting from accidents at work, manual handling injuries, falls from heights, carbon monoxide poisoning, road traffic accidents, dog bites, sports injuries, assaults and defective equipment and premises, Natalie sets high professional standards for her team. 
With access to the best medical experts, Natalie's target is to have instructed them within a week of  a claim coming in, but insists that injuries are assessed at the right time to take account of whether the client will suffer long-term from their injuries.
Natalie says she's proud to work for Thompsons, "a firm like no other" that puts clients first, treats staff so well and never acts for employers but for those mistreated at work and victims of injury.
To relax, Natalie is an avid gym-goer, loves running and cycling, some reading, and, above all, spending time with her family. 
NATALIE'S CASE EXPERIENCE
Ms Jane McCloughlin a Thompsons personal injury client was badly injured when she was run over at a Morrisons petrol station when walking through the forecourt. Natalie took up her case and won Jane nearly £88,000 compensation for her injuries. Jane talks of her experiences here.
Caretaker Steven Moss, seriously lacerated his wrist when he was trying to board up a window that had been vandalised and broken. The employers denied responsibility. Natalie took the case and won compensation for Steven, arguing that if the job had been risk assessed, they would have found it to be more suitable for two people to carry out.
Market supervisor Allan Hodgson, a Thompsons personal injury client, slipped on rubbish left lying on the floor of the building he was opening up early one morning. He injured his shoulder. Natalie argued that the floor should have been cleaned thoroughly the night before when business closed.  The employers denied responsibility so Natalie issued proceedings and pursued the case through the courts, recovering just over £1000,000 damages for Allan. 
PROFESSIONAL MEMBERSHIP
Natalie is a member of the Association of Personal Injury Lawyers (APIL).