Patients Before Profits: Let's Help Sling the Mesh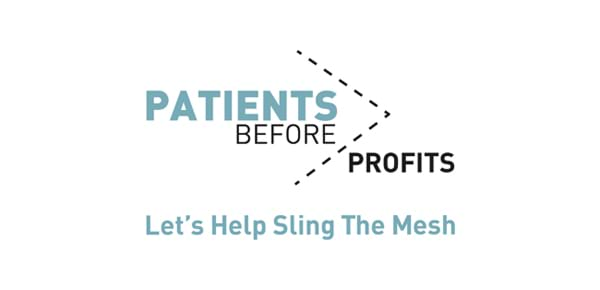 More than 127,000 women in the UK have had mesh and tape implants for side effects typically following childbirth, according to the NHS.
Hundreds more, including men and children, have been offered mesh surgery as a treatment for rectal prolapses and abdominal hernias. Figures for private mesh operations are, as yet, unknown.
Many people who have had a mesh implant are now suffering from severe pain, life-long injuries and psychological trauma as a result of their operations. Some have been able to have their mesh implants removed, but for some, it's not a possibility. Victims of mesh injuries are often scarred for life, physically and mentally. People are are fighting for answers and Thompsons is fighting with them.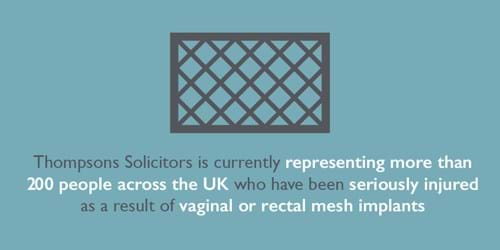 We know that almost everyone who had a mesh sling, mesh tape, tension-free vaginal tape (TVT) or ventral mesh rectopexy operations were either not told about the potential risks when they were offered the surgery or were told it was a very simple operation with minimal side effects. They are now paying the price with serious health complications.
Thompsons Solicitors believes that mesh may be the biggest medical scandal to hit the UK since thalidomide, and we are committed to fighting for those who have been affected.
Sling the Mesh has led the campaign to expose the horrors that those injured by mesh have experienced and the group has been incredibly successful in bringing mesh injury to the fore through the media and in Parliament. MPs are now waking up to the scale of the issue.
Latest medical negligence news
However, we still have a way to go. Mesh is still used by surgeons in the UK, despite being banned in New Zealand and Australia. Even now, patients are being told mesh is the answer for vaginal and rectal prolapse, as well as incontinence when there are other non-invasive options available that are often not exhausted first.
Thompsons Solicitors has a long and proud history of representing people who have suffered from medical negligence and has always refused to act for anyone other than injured people and never for insurance companies. We are proud to support Sling the Mesh's campaign to raise awareness of the dangers of mesh.
What does Patients Before Profits: Let's Help Sling the Mesh want to achieve?
We say, mesh implants must be suspended from use in all UK operations with immediate effect. Our campaign, Patients Before Profits: Let's Help Sling the Mesh, also supports the call for a full public inquiry into mesh.
How can I show my support?
There are a number of ways that you can support the campaign and tell private healthcare providers to put patients before profits:
Template Letter

Use the below draft letter to show your support for the campaign by sending it to your local MP:


Dear (insert MP name),

I support calls from campaign group Sling the Mesh for a suspension of the use of mesh implants for all types of medical conditions unless and until the risks are fully investigated.

At least 127,000 people in the UK have been given a mesh implant on the NHS. Many more have been operated on privately though the numbers are as yet unknown.

It is clear from the number of people coming forward, mesh poses the risk of numerous long-term health problems and those risks are not being fully explained to patients. Women, men and even children who could be offered alternative treatment are being injured, often with serious, life-long consequences.

I want an immediate suspension of the use of medical mesh pending the outcome of a government inquiry into its use. Will you, as my MP, support that call?

Yours sincerely,

(insert your name)