John Walker, 65, has turned to Thompsons Solicitors for help with his claim
A former scaffolder from Batley, West Yorkshire, who has been diagnosed with an asbestos-related disease, is appealing for information from former colleagues to assist with a compensation claim.
John Walker, 65, was diagnosed with the asbestos disease mesothelioma in April 2022, after struggling with his breathing.
The disease has forced him into early retirement, and he has lost more than two stone in weight.
He was exposed to asbestos while working for Cape Scaffolding Ltd as a scaffolder at Eggborough and Ferrybridge power stations in West Yorkshire, Rugeley power station in Staffordshire and Drax power station in North Yorkshire from 1985 to 1997.
It's alleged that scaffolders at the power stations were often exposed to asbestos dust from pipework, which was typically lagged with asbestos.
The married father-of-two has contacted national law firm Thompsons Solicitors to help him with a legal claim, and is asking former workers at the power stations to come forward with information, particularly those who recall working in an environment that exposed them to asbestos during their time of employment.
Mr Walker said: "It came as a devastating blow to be diagnosed with mesothelioma cancer decades after I had been exposed to asbestos. Since my diagnosis, my health has rapidly deteriorated.
"I used to be a fit and health individual, but I now struggle to do the most basic of tasks, such as eating and drinking.
"I'd be very grateful if my former colleagues can come forward with any information about being exposed to asbestos at Eggborough, Ferrybridge, Rugeley and Drax power stations."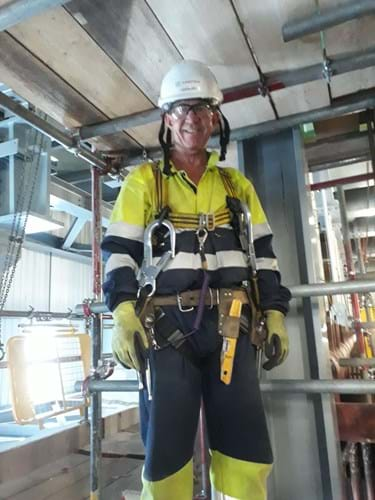 Mesothelioma, a cancer that primarily affects the lining of organs, typically the lungs, is strongly linked to asbestos exposure. Symptoms can take decades to manifest following exposure. According to Cancer Research UK, between 2017 and 2019, mesothelioma claimed the lives of 2,394 individuals in the UK.
Thompsons won the first-ever asbestos compensation case brought to the House of Lords back in 1972 and has since been involved in every major fight against the asbestos insurance industry. In addition, the firm is a member of the Mesothelioma UK Legal Panel, which recognises the firm's expertise fighting for the rights of asbestos victims.
Paul Corrin, a senior specialist asbestos lawyer at Thompsons' Leeds office, said: "We would be grateful to hear from anyone who can provide evidence of scaffolders being exposed to asbestos while employed by Cape Scaffolding Ltd at Eggborough, Ferrybridge, Rugeley and Drax power stations from 1985 to 1997.
"It's been encouraging to hear from a number of witnesses already, but it's vital that more people come forward with information to help build a civil claim on John's behalf, and ultimately, secure a positive outcome."
Anyone with information should contact Paul Corrin at Thompsons Solicitors on 0113 367 7423 or email PaulCorrin@thompsons.law.