80-year-old Veronica Thomas died of mesothelioma just months after she was diagnosed. Now, her family are appealing for her former workmates to come forward with information about the working conditions of the factory.
The family of a former Ford & Co (South Shields) worker who died from asbestos-related cancer are appealing for her former workmates to come forward with information about the working conditions of the factory.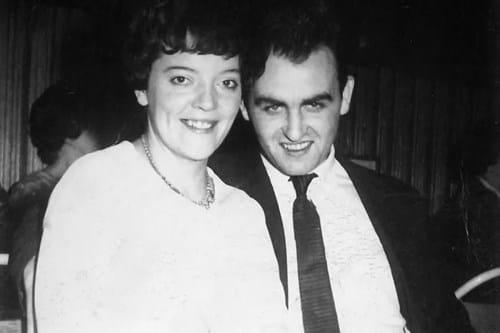 Veronica Thomas and her late husband James, pictured in the 1960s
---

Veronica Thomas from South Shields, Tyne and Wear, was 80 years old when she tragically passed away in June 2023, less than a year after she was diagnosed with mesothelioma - an incurable cancer attributed to occupational exposure to asbestos which often occurs decades before symptoms arise.

Before her illness, Mrs Thomas, a loving grandmother, led an independent life, living alone with her cherished dog, Bonnie, before falling ill in the summer of 2022. Experiencing shortness of breath, she visited her local GP, who sent her for a CT scan.

In October of that year, she received the shock diagnosis, following which she reached out to industrial disease experts at the national law firm Thompsons Solicitors for help to determine where and when she came into contact with asbestos.

Sadly, her condition deteriorated, and she passed away while the case was ongoing. In her final weeks, she was lovingly cared for around the clock by her family, who have vowed to continue her battle for answers and are now appealing for witnesses who may have worked with her to come forward with vital information that may aid their ongoing investigation.

They are particularly keen for anyone who may have worked with her at the Ford & Co (South Shields) factory on Commercial Road, South Shields, between 1958 and June 1962, when she would have been known as Veronica Brennan, and which is where they believe she was exposed to asbestos.

Speaking before her death, Mrs Thomas recalled her time at the factory, which involved pressing out metal/copper circles and corresponding sized asbestos from sheets. She recalled how the raw edges of the sheets would leave dust on her hands, which would subsequently transfer to her face, lips, and hair.

Despite these conditions, she said she was never provided with overalls, which meant her clothing was also contaminated with the hazardous dust. The atmosphere in her workspace was so thick with airborne asbestos that she described it as impossible to avoid.

Speaking of the family's loss, Mrs Thomas' daughter, also called Veronica, said: "We are still coming to terms with our loss, and while it is always very difficult to lose a loved one, it is incredibly difficult to come to terms with the fact that her life was cut short due to asbestos exposure. It fills me with profound anger to think that her illness could have been prevented, and I am determined to continue her battle for answers."

Now, in a bid to determine whether more could and should have been done to protect workers like Mrs Veronica Thomas, the family's legal team at Thompsons Solicitors are urgently appealing for help. The team is keen to gather more information regarding the working conditions at the factory during that period.

Gill Connelly, industrial disease specialist at Thompsons Solicitors, said: "It's a deeply saddening situation. Mrs Veronica Thomas dedicated so many years to her job, unaware of the silent threat she was exposed to daily.

"We're committed to getting answers for the family and implore anyone with relevant information – particularly anyone who might have worked at Ford & Co (South Shields) Limited during 1958 – June 1962 and who can recall the presence of asbestos in the factory – to reach out with information."

Witnesses with knowledge about the working conditions during those years could be essential in helping the family find closure and understand the circumstances of Mrs Thomas's asbestos exposure. Gill Connelly at Thompsons Solicitors can be contacted via: gillconnelly@thompsons.law