Workplace back injury claim
START YOUR CLAIM TODAY
For free, no obligation legal advice about starting a workplace back injury claim, complete our quick and easy callback request form.

Simply fill out your contact details, choose a preferred time for us to call, and one of our expert accident at work lawyers will be in touch to discuss your workplace back injury claim.
Why Thompsons?
We're 100% committed to claimant-only work; that means we only ever represent the injured, never employers or insurers
In many areas of injury law, we have been the firm that has tested the boundaries and run and won the major cases
We have a network of specialist solicitors based in local offices right across the UK
We invest our expertise into each and every case in order to protect our clients' rights and fight for better working conditions for all
We have nearly 100 years' experience in running and winning claims for those injured at work as a result of their employer's failure to keep the workplace safe; we know all the excuses employers come up with to avoid liability and how to beat them
We were involved in establishing the Health and Safety Act 1974, a key piece of legislation that keeps workers safe
We have a long and proud history of supporting the trade union movement and providing specialist free legal services to union members
We offer a 'no win no fee' agreement for those who are not union members so if your workplace back injury claim isn't successful, you won't pay a penny. 
About workplace back injury claims
Back injuries and back pain are common causes of work-related absence in the UK, with the Office for National Statistics reporting that musculoskeletal problems accounted for 27.8 million days of sick leave in 2018.
All manner of workers can suffer from a workplace back injury, including those who work in offices, on production lines, and in warehouses, on construction sites, and in health and social care settings.
A workplace back injury is typically caused by lifting heavy items, repetitive activities, or prolonged periods in one position and can lead to discomfort and stiffness in the lower back, muscle spasms, and even long-term mobility issues.

Your employer is responsible for your health and wellbeing in the workplace, and this includes preventing or minimising the risk of back pain and injury. If you've injured your back at work and think your employer was at fault, our specialist accident at work solicitors will be able to offer you no obligation advice on how to make a workplace back injury claim.
To start a 'no win, no fee' workplace back injury claim, get in touch today using the request a callback form. Alternatively, complete our online claim form or call 0800 0 224 224.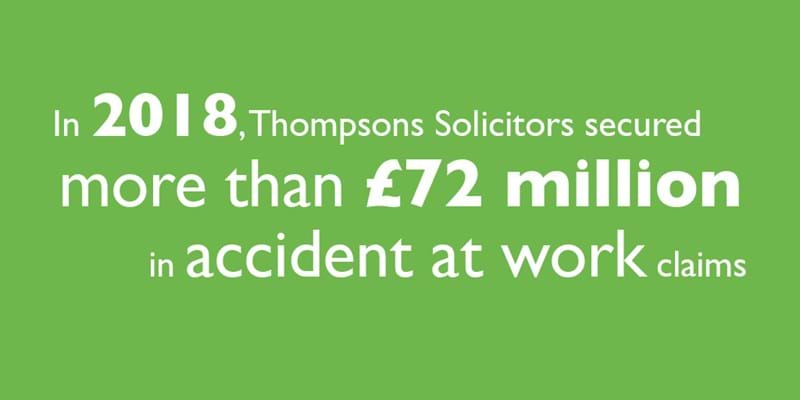 Have you injured your back at work?
Call our team on 0800 0 224 224 for free, no obligation advice or complete our simple online claim form
Start a Claim