McBurned?
Workers can claim compensation for McDonald's burn injuries


People working in the food service industry – such as those employed by fast food giants like McDonald's – are at risk of work-related personal injuries. Injuries at McDonald's include slips and trips on spills which have not been cleaned or signposted, muscular-skeletal pain due to long periods of standing with inadequate rest breaks, or exposure to air pollution while staffing Drive-Thru windows.
One under-reported type of McDonald's employee injury is burns. Too many workers feel that minor burns are 'part and parcel' of doing their job and that they can't make a personal injury claim as a result, but this is not the case.
If you've been burnt while working at a McDonald's restaurant in the UK, get in touch to discuss how Thompsons Solicitors could support you with a burns injury compensation claim against McDonald's.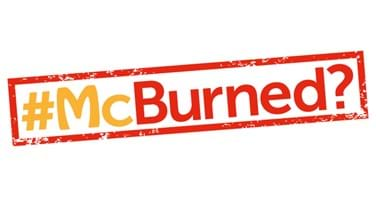 For a free, no obligation initial assessment, complete the quick and easy callback request form on this page and we'll get in touch at a time that suits you, or call 0800 0 224 224.

Download our PDF to find answers to frequently asked questions about McDonald's burns injury claims.

Why should McDonald's workers come forward with details of their work-related burns?


If you work at McDonald's and come forward with information (which will obviously be kept confidential) about a burn you've suffered on shift, you will be helping your fellow workers in a number of ways:
The more workers who come forward with evidence of burns injuries, the stronger the legal case against McDonald's will be; you won't just be pursuing compensation for yourself, you will be helping injured workers across the UK to do the same.
You will be taking a stand against a global company which makes multi-millions in profit – you will be saying "that's not okay" and that the McDonald's injury policy isn't tackling the issue well enough. McDonald's workers' rights are important, and coming forward with details of what happened to you helps to build a case against poor workplace health and safety in McDonald's restaurants.
You will be helping to make McDonald's workplaces safer for everyone. Information about burns accident rates and injury 'hot spots' can be shared with organisations such as the Health and Safety Executive (HSE), local MPs and trade unions such as the BFAWU who can work to expose and stamp out the injuries across the UK.
Why is Thompsons proposing running claims against McDonald's?
Thompsons Solicitors has worked with trade union the BFAWU on the ongoing Fast Food Rights campaign to help turn up the heat on fast food giants who have let poor health and safety in their industry become "the norm". We have identified that there is a genuine risk to McDonald's workers of suffering avoidable burns injuries, and want to help them take legal action to pursue personal injury compensation for their injuries. Ensuring adequate legal pressure is applied to employers, so workers get home safely at the end of their shift (whatever their role or industry), has always been a priority for Thompsons.
Why is this happening at McDonald's?
Burns are a risk associated with working in the food service industry. However, employers have a duty of care towards all of their employees; they are expected to assess risks in the workplace and to take "reasonably practical" steps to protect the workers if the risk cannot be eliminated. It appears McDonald's is failing to take adequate steps to remove or reduce the risk of burns.
How do I start a McDonald's burn injuries compensation claim?

There are two simple ways to get in touch with Thompsons Solicitors about making a McDonald's injury claim for compensation: you can call our friendly and helpful legal enquiries team on 0800 0 224 224 or complete our quick and easy online claim form.
What information do I need to provide to make a burns accident claim against McDonald's?
Whether you choose to fill in our online claim form, or call our Freephone helpline, all you'll need to tell us is which branch of McDonald's you work in, how long you've worked there and when, and how, your burn(s) occurred.
What happens next?
We will record the details of your burn(s) and use all of the information we receive from you and your fellow McDonald's workers to build a picture of when, where and how these injuries are taking place.
Everything is completely confidential and no information about you will be shared with McDonald's without prior notice to you. A solicitor will be assigned to your case and you, and the other claimants, will receive regular updates.