Patients Before Profits: Justice for Paterson Victims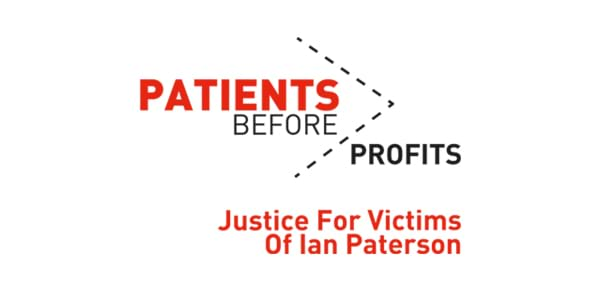 In April 2017, former breast surgeon Mr Ian Paterson was criminally convicted of multiple counts of wounding with intent at Nottingham Crown Court.
The court heard that Mr Paterson had been carrying out totally unnecessary surgical procedures and operations on patients referred to him for private treatment at hospitals run by private healthcare provider Spire. These ranged from invasive lumpectomies when biopsies would suffice all the way through to full mastectomies on women it later transpired did not have breast cancer.
But his medical negligence didn't end there.
Mr Paterson had also been carrying out surgical techniques, known as cleavage sparing mastectomies, on breast cancer patients at an NHS and private hospitals in the Midlands which were not recognised in clinical practice. In doing so, he put those patients at greater risk of their cancer returning despite the dangers of the procedures being well known and widely rejected as a technique by medical regulators.
Thompsons acted for over 500 former patients of Mr Paterson in civil claims against the hospitals involved. But our focus doesn't end there.
During our investigations into Paterson's negligence on behalf of our clients, we exposed a number of issues surrounding private healthcare providers, and identified a number of ways in which they are trying to avoid taking responsibility for any problems that emerge from the treatment.
It seems fundamental to us that patient safety should be paramount, whether someone is being treated in a private setting or on the NHS. Our new campaign, Patients Before Profits - Justice for Paterson Victims, will work to ensure that wherever people are treated, the same legal protections and safety standards apply, and procedures will be followed.
What do we want to achieve?
The Patients Before Profits - Justice for Paterson Victims campaign aims to:
Expose and eliminate the 'liability loophole' in the justice system that exists for private healthcare providers. This has, for too long, allowed them to avoid responsibility for negligent staff working on their premises and keep all of the payments they have received for the treatment regardless of its outcome.
Ensure that private healthcare companies are held to the same standards and obligations of transparency, safety and accountability as the NHS.
Guarantee that patients are, at all times, put before profit: no healthcare provider should be able to get away with having a patient poorly treated "on their watch" and still be able to profit from that.
Secure a legal guarantee that all patients, wherever they are treated, will have the same remedies and opportunity for legal redress should they be injured by anyone else at the treatment centre.
How can I show my support?
There are a number of ways that you can support the campaign and tell private healthcare providers to put patients before profits:
"I am disappointed at the way this has been handled by Spire Healthcare and the General Medical Council, who seem to be trying to wipe their hands of it," she said. "It has made me determined to ensure neither he nor they get away with what has happened. If a hospital is not responsible for ensuring the professionals working on its premises are acting ethically and responsibly, then who is?"
Sarah
,
our medical negligence client
About Thompsons
Since 1921, Thompsons has successfully helped hundreds of thousands of people who have suffered due to the negligence of others. Our specialist lawyers act swiftly and compassionately to ensure clients are provided with the upmost support and maximum compensation in the shortest possible time. You can learn more about Thompsons by visiting the About Thompsons page.
Independent Inquiry into the actions of Ian Paterson
If you have suffered as a result of the treatment provided by Ian Paterson, you are invited to attend an evidence session as part of an independent inquiry into the actions of the former breast surgeon. Click here for more information.