Statistics show that the number of road traffic accidents peaks in the winter months
Road safety is an issue that motorists need to be mindful of throughout the year, but drivers, cyclists and pedestrians face increased danger during the winter months and need to take extra precautions.

Motorists are more likely to encounter extreme weather conditions, such as wind, rain, snow or ice, during winter months. This, coupled with darker evenings, increases the chance of road accidents and the severity of those accidents.

According to The Royal Society for the Prevention of Accidents, there were 2,274 reported injuries during 2014 when there was snow or ice on road surfaces. During 2014, pedestrian deaths rose from 39 in October to 66 in November and 73 in December.

Cycling accidents that occur in the dark are more likely to be fatal. Cyclist deaths rose in 2014 from three in October to eight in November and eight in December.
Winter driving tips
Simple measures to help minimise the chance of being involved in a road accident, include:
Ensuring your car is kitted out with items like screen wash to deal with snow or ice
Driving at a steady pace to help you manoeuvre smoothly
Keeping a safe distance from the car in front – stopping distances can increase fourfold during poor weather conditions.
If you do have to travel in adverse conditions stick to main roads that have been gritted wherever possible.
To help drivers and other road users, Thompsons Solicitors has produced a downloadable factsheet with winter driving tips and general road safety advice to ensure that everyone is prepared for the harsher conditions.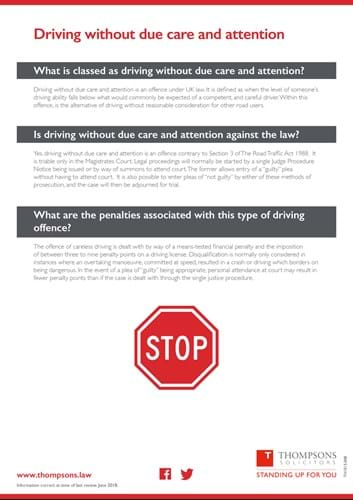 David Robinson, a specialist road traffic accident solicitor based at Thompsons Solicitors' Newcastle office, said: "With the darker conditions and less predictable weather, it is important for road safety to be at the forefront of people's minds.

"While there is, of course, a responsibility on local authorities to ensure that roads are well maintained and properly gritted government imposed cutbacks on local authorities may impact on that and, in any event, road users need to be suitably prepared for adverse weather conditions. We have managed thousands of road traffic accident claims for clients that could have been avoided if the defendant had taken a little more care, and we hope that our factsheet will provide people with useful driving tips to keep them safe this winter."
---
Injured on the roads? Help and compensation is close at hand.
If you've been injured on the roads in the last three years, Thompsons Solicitors' expert road traffic accident solicitors can support you with making a road traffic compensation claim. 
Whether you were the driver or passenger in a car, lorry, coach, van, bus, truck, on public transport or were injured as a pedestrian or cyclist, you may be able to claim for damages.
If you have suffered injuries such as whiplash, bruising or a more serious injury following a road traffic collision on the motorway, country lane or city roads, our solicitors across the UK are ready to help you to make a claim and access any rehabilitation you require.
Unlike other firms, Thompsons only ever acts for the injured person – never for insurance companies. This means we will fight harder to secure the maximum level of compensation for your injuries, and don't need to please motor insurance paymasters.
Contact us today for a free, no obligation assessment of whether you have a claim for compensation following a road accident.
For further information, visit our How to Make A Compensation Claim page.