The man developed Post-Traumatic Stress Disorder (PTSD)
A West Midlands man who was left blind in one eye and developed Post-Traumatic Stress Disorder (PTSD) after an accident at work has received damages with the help of Thompsons Solicitors.
The man was working for Metal Products Arden Ltd when he was asked to take a welding test by the firm's quality inspector. He was told to use a gas welder and had to connect it to a gauge, known as a flow meter, to measure its pressure. The meter, however, was only designed for machinery connected to mains power, which requires far less pressure.
After it was connected the quality inspector turned on the gas, causing the flow meter to explode and a piece of it to fly into the man's eye.
The man usually wore a head shield and safety goggles when he was welding, but he was between jobs when asked to take the test and his employer didn't tell him he would need personal protective equipment (PPE).
After the accident, he was rushed to hospital where doctors performed an operation to repair a tear in the retina of his left eye. Unfortunately, the operation did not save his sight in the damaged eye and he later needed a prosthetic eye fitted because of the pain in his eye socket.
As a result of his impaired vision he was not able to return to work. The accident also caused the man to develop PTSD, meaning he now finds it difficult to sleep and socialise with family and friends.
He contacted serious injury specialists, Thompsons Solicitors, to investigate a claim for compensation on his behalf.
The man said: "My consultant told me that I could have died if it had been the ball bearing in the flow meter which had hit me, which was a complete shock and really put things into perspective.
"My impaired vision means I struggle to do everyday things like walking or driving as I find it hard to see in front of me. This, coupled with my PTSD, means I don't have the confidence to meet up with my friends or do things that I used to enjoy like playing football.
"However, knowing that Thompsons has held my employer accountable for what happened to me has been very reassuring."
John Mullen, of Thompsons Solicitors, said: "At the time of the accident, the employer wanted to test that our client was able to perform a job but, by rushing through the procedure, it means that he has permanently lost his vision in one eye and will be limited in any future work he does.
"PPE is an essential part of all health and safety policies, which is recognised across all sectors, yet this employer failed to follow regulations and, as a result, has left our client with a life-changing injury."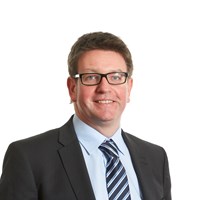 "Mick suffered a career-changing injury because of unsafe machinery at Galglass, but we were able to reach an agreement and settle the claim so he has some financial security into the future.

Phil Kyte Senior Workplace Accident Solicitor
---
Injured at work? Contact us for expert advice on workplace accident compensation claims.
If you or someone you know has suffered an injury in an accident at work, Thompsons Solicitors' specialist workplace accident solicitors are on hand to help you make a claim.
Our accident at work legal experts will explain the process in plain English, and discuss whether you are eligible to make an accident at work compensation claim.
We have significant unrivalled experience of winning workplace accident and injury claims and will provide a no obligation assessment of your circumstances.
Time limits of three years from the date of accident or injury apply, so contact us for advice today.
For further information, visit our How to Make A Compensation Claim page.