Najia takes us through her day-to-day routine at Thompsons Solicitors
At Thompsons, we believe we're only as good as our people. That's why we ensure all our staff, from a new recruit to those who have shown loyalty to us over many years, are given regular opportunities to help develop their legal careers. 
As part of our 'Week in the Life' series, we sat down with Najia Robbani, one of our trainee solicitors, to find out more about her day-to-day life at Thompsons.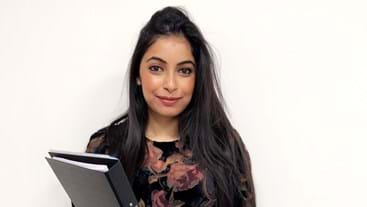 How did you kick-start your week at Thompsons?
"At the moment, I'm based within the employment rights team, but as I'm training I will have the opportunity to work within a number of specialist legal areas including clinical negligence, serious injury and criminal law. I began my week as I always do, by meeting my training supervisor to discuss the different cases I'll be assisting on, before spending some time making sure I'm organised for the busy but exciting week ahead by diarising key dates, deadlines and completing a to-do list."
What are your day-to-day responsibilities at the firm?
"Being a trainee means I get involved in all kinds of tasks, but my main responsibility is to assist solicitors with their cases. In one day I could be drafting a schedule of loss, a letter of advice on a race or sex discrimination claim or even preparing 'bundles' for a tribunal hearing. The next I could be attending an unfair dismissal hearing at an Employment Tribunal. I have also attended a face-to-face advice clinic where members can seek employment advice. Each day is varied and different, which makes it even more enjoyable - I'm learning so much in a fast-paced working environment." 
Tell us about what you've got planned for the week ahead.
"This week I am preparing witness statements on a collective redundancy claim. It's incredible in this day and age that people go to work one day to be told, completely out of the blue, that they have been made redundant with no prior warning whatsoever and we are out to get them justice. 
"Also in the diary this week is a training and education session with the employment rights team, where we'll discuss recent cases and share our key learnings, strengthening our knowledge and expertise for when we have to deal with similar claims in the future. 
"Obtaining financial evidence for a disability discrimination and wrongful dismissal claim is also on the list, so that a schedule of loss can be put together showing the financial losses a client has suffered. This can sometimes be quite mind-boggling when working out all the maths calculations!
"I will also be preparing and drafting a letter of advice on an unfair dismissal claim. I enjoy working methodically and proactively in the cases I am assisting on. I always ensure that I understand what has happened to our clients so that I know I tried my best to help obtain the maximum amount of compensation possible for them." 
What other activities are you involved in at the firm?
 "During my time at Thompsons, I have been involved in the Working Environment Group, where ideas have been discussed and implemented to make the office environment a better place to work. I am also a member of the Equality & Diversity Group; Thompsons is an equal opportunities employer with an inclusive culture that respects and values people's differences, and I'm proud to play a role in helping to ensure that the firm is as alive to these issues as possible, and working to see how it can proactively tackle issues that arise. It is also very important to me that at any level of the firm colleagues understand, agree and respect the firm's values in terms of equality and diversity.
"We act for many of the UK trade unions and that has allowed me to attend various trade union events on behalf of the firm, and participate in rallies and marches that match the firm's vision and values (and mine!)."