The Supreme Court says the Motor Insurers' Bureau's appeal "does not raise an arguable point of law"
The Supreme Court has rejected an appeal by the Motor Insurers' Bureau's (MiB) of a landmark ruling to support road accident victims injured on private land. The end of the road for the MiB's attempts to evade responsibility means they will at long last have to pay damages for a catastrophic collision that left a 73-year-old a tetraplegic.

Michael Lewis suffered severe spinal cord injuries in June 2013 when, while on foot, he was chased across private land by its owner, who was driving a 4x4. The resulting collision has left him dependent on round-the-clock care.

The MiB was the defendant in the original case as the landowner was uninsured. It tried to claim it was not liable to pay Mr Lewis compensation on the basis that the Road Traffic Act of 1998 only requires compulsory insurance to cover collisions on a 'road or other public place'.

This was successfully challenged by Thompsons Solicitors in the High Court in 2018, and upheld in the Court of Appeal a year later, on the basis that Articles 3 and 10 of the Sixth EU Motor Insurance Directive state that vehicle owners require compulsory insurance on both public and private land, and this applies to the MiB as it is an 'emanation of the state'.

In a final bid by the MiB to overturn the High Court and Court of Appeal rulings, it turned to the Supreme Court, claiming that Article 3 of the Directive was not "unconditional" and could be used with discretion by EU member states. It also requested for the ruling to be referred to the Court of Justice of the European Union (CJEU).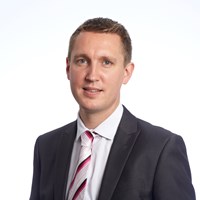 It is now confirmed by the highest court in the land that the MiB cannot exclude victims from compensation if they are injured by an uninsured or untraced driver on private land.

David Gauler of Thompsons Solicitors
The Supreme Court wasn't persuaded and found for the counter-argument put forward by Thompsons, with the support of barristers from Exchange and Monkton Chambers, that the MiB's position had already been unanimously rejected by the High Court and the Court of Appeal, relying upon EU Directives that themselves form the basis of the CJEU's authority, and that as such any further appeal or referral "[did] not raise an arguable point of law".

The Supreme Court's decision closes the door on any further appeals by the MiB and means it will have to meet the significant damages awarded to Mr Lewis.

David Gauler, the lawyer at Thompsons Solicitors who represented Mr Lewis, said: "The Supreme Court has finally put an end to the MiB's relentless efforts to avoid paying out compensation to our client.

"It is now confirmed by the highest court in the land that the MiB cannot exclude victims from compensation if they are injured by an uninsured or untraced driver on private land. Whether this will remain the law after the end of the Brexit transition period - currently set for 1 January 2021 – given its reliance on EU Directives remains to be seen.

"EU law has been helpful in advancing and clarifying a number of rights, allowing people injured through no fault of their own fair and appropriate access to justice. The government has made much of its promise that after we leave the EU no one will lose rights they enjoy now so here is a chance for them to show that it isn't going to row back on fairness. They should as a priority commit to amending the Road Traffic Act 1998 so that after the 1 January 2021 it mirrors EU law and victims of serious accidents in the UK like Mr Lewis have the level of protection recognised by the Supreme Court as appropriate and enjoyed by our EU counterparts."