Asbestos Compensation Claims
If you've been diagnosed with an asbestos-related illness, we can help you make an asbestos compensation claim.
A diagnosis of an asbestos-related disease will almost always come as a complete shock, because it will have been many years since you were exposed to asbestos.
Our specialist asbestos solicitors understand that it can be a difficult diagnosis for you and your family. We can support you by putting you in touch with asbestos support groups that will help you claim benefits, and we can also help you seek compensation for your illness.
We understand that no amount of money can ever give you back your health, however it can provide financial security for you and your family at this difficult time.
We're here to help you
Our asbestos disease experts are on hand to talk through your case and provide free, no-obligation legal advice.
Expert asbestos solicitors
Thompsons won the first-ever asbestos compensation case brought to the House of Lords back in 1972. Since then, we have been involved in every major fight against the asbestos insurance industry.
When you make an asbestos compensation claim with Thompsons, you will have industry-leading asbestos solicitors on your side. Our expert lawyers will fight for you to receive the maximum compensation for your illness in the shortest possible time.
No legal fees
When you make an asbestos claim with Thompsons, we provide you with legal advice and representation entirely free of charge – whether you win or lose.
The only charge we have to pass on to you by law is for an insurance policy to underwrite your claim. The cost of this insurance policy is paid from your award if you win your claim. If you do not win your claim, then you do not pay for the insurance.
If you are a trade union member, or if you were a member at the time of your asbestos exposure, you can make your claim through your union's legal service. They will cover your insurance costs, meaning your claim is entirely free of charge.  
What you need to know about asbestos claims
Can I claim for asbestos exposure?
If you have been diagnosed with an asbestos-related disease you may be able to make a claim for asbestos exposure.
Family members and loved ones of those diagnosed with an asbestos-related disease can also bring claims against those responsible on their behalf.
How do I make an asbestos compensation claim?
The first step to making an asbestos claim is to contact our team of asbestos solicitors - you can call us on 0800 0 224 224 or complete our online claim form.
During our first conversation we will discuss your case and explain the claim process in detail. If you choose to proceed with your claim, we will work with you to find out how you were exposed to asbestos.
We will then work tirelessly to track down the relevant people, such as employers, insurers, and witnesses, in order to make your asbestos claim and secure the compensation you deserve.
Is there an asbestos claims time limit?
As with most personal injury claims, there is a time limit of three years for making an asbestos claim. The three years begins when you receive your diagnosis of an asbestos-related disease.
If a family member has passed away from an asbestos-related disease, you can make an asbestos death claim. You will have three years from the date of their death to make the claim. If you are not immediately aware that an asbestos-related disease caused their death, the three years starts from the date you were informed of this fact.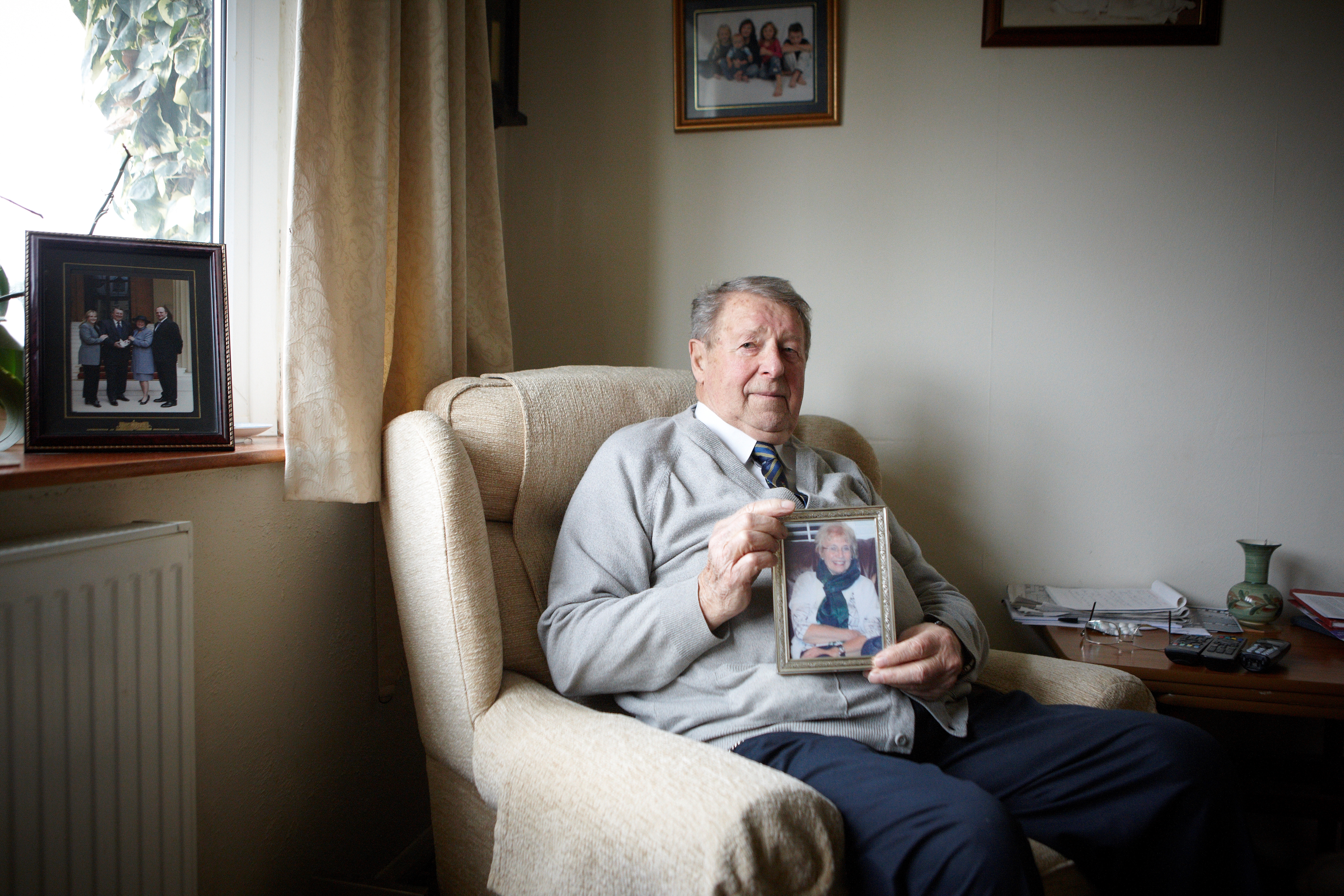 Lisa's father passed away after being diagnosed with mesothelioma. We helped her trace the companies responsible for exposing her dad to asbestos so that they could be held liable for his death.
Frequently asked questions about asbestos compensation claims
Asbestos is a natural fibre that was widely used in construction and other industries until it was banned in the 1990s due to its links with serious illnesses. It was mainly used as insulation and to protect buildings from fire. It's often found around pipes and boilers, but also in homes, workplaces, schools, hospitals and public places.
An asbestos-related disease is an illness caused by the inhalation of asbestos dust.
An asbestos disease can take decades to develop. There are several different types of asbestos-related illness and the symptoms, treatment and the prognosis of each can vary.
Most asbestos-related conditions affect the lungs.
Exposure to asbestos can cause:
Mesothelioma, which is a type of cancer that affects the lining surrounding major organs, including the lungs.
Asbestos-related lung cancer.
Asbestosis, which is a chronic lung disease.
Pleural plaques and pleural thickening, where the lining of the lung becomes scarred.
Thompsons Solicitors can help with claiming compensation for any illness caused by asbestos exposure. Our asbestos lawyers are experienced at winning pleural thickening, asbestosis, lung cancer and mesothelioma claims – simply fill out our online form or request a call back to discuss your asbestos case.
An asbestos claim is a legal process taken by someone who has developed an asbestos-related condition. The claim aims to secure financial compensation from those responsible for the exposure. Usually, the insurers of the responsible party will end up paying compensation and any legal fees.
For more information about these exceptions, contact our asbestos solicitors.
As asbestos was used widely in the past and can still be found in buildings today, a huge range of people could have been exposed to asbestos.
People who are likely to have been in contact with asbestos and develop an asbestos-related disease are:
Plumbers
Electricians
Fitters
Boilermakers
Shipbuilders
Carpenters
Joiners
Family members of people working in these industries.
Thompsons Solicitors' asbestos lawyers have also supported clients who have lived near areas where asbestos was present.
That's not a problem, our long history of pursuing these claims means we have extensive records detailing the insurers of different employers throughout the decades. We can review these records to find out who insured your employers at the time you were exposed to asbestos. We can then pursue the insurers for asbestos compensation, even if the company you worked for no longer exists.
Don't worry, our specialist asbestos lawyers are very experienced and will ask you lots of questions about where you worked and the type of jobs you carried out. This will help identify where the asbestos was used.
It is possible to claim asbestos compensation on behalf of a relative who has died of an asbestos-related illness. Read our guide to asbestos claims after death for more information.
Ordinarily, you need to make your claim within three years of your loved one's death, but there are some exceptions to this rule. For more information about these exceptions, contact us today.
Smoking and asbestos work together to increase your risk of contracting asbestos-related lung cancer. However, it is still possible to investigate a claim even if you did smoke.
No – our lawyers can speak with you remotely and, if it is safe to do so, come to see you at your home or any other location of your choosing. It is important that you feel comfortable when we meet, and we want to make sure you are in familiar surroundings.
Compensation is case specific and calculated by looking at a range of factors, including your level of pain or suffering, any disability caused, and any financial losses and care costs incurred. Generally, the more severe your case and the impact on your life, the greater the compensation award.
It is the priority of every asbestos solicitor at Thompsons to quickly establish the facts of your case, identify the parties responsible, make applications to the courts for interim payments (an immediate payment to meet an immediate need) and work towards achieving a successful outcome as soon as possible.
Every case is different, but our solicitors will always seek to secure maximum compensation in the shortest time possible.
No – while there is always paperwork associated with every legal case, we will try to make this as simple as possible for you.
The most important person in the claim is you, and you are the only person who can provide us with the evidence we need to investigate your claim. You will therefore need to give us as full an account as possible of your working life, explaining where you were exposed to asbestos, and you will need to sign your statement to tell us it is correct.
However, if you do not want to deal with the day-to-day running of your claim, you can nominate a family member to deal with the claims process and we will only contact you when we specifically need information that only you can give.
If you have been diagnosed with an asbestos disease in the UK, you may be able to claim some of the following benefits.
Industrial Injuries Disablement Benefit
Asbestos-related conditions are classed as industrial diseases, so you can claim Industrial Injuries Disablement Benefit for your asbestos disease.
Disability Living Allowance (DLA) / Personal Independence Payments (PIP)
These benefits are available to UK citizens who are unable to work due to disability or long-term illness.
Claiming benefits does not exclude you from making a civil claim for asbestos exposure compensation through Thompsons, however it may mean your compensation award is reduced by the amount of benefits you receive.
When you speak to us, we will be able to advise you on how you should proceed to maximise your financial compensation. We will also put you in touch with a local asbestos support group who can help you apply for asbestos benefits, as well as providing other asbestos-related support.
There are also some schemes which you can claim lump sum payments from if you are unable to progress a civil asbestos compensation claim due to the employer or insurer being untraceable.
You should always try to make a civil claim in the first instance, as these schemes are only available if you have exhausted other avenues to claiming compensation. Plus, compensation awarded in civil asbestos cases is usually greater than the payments you can receive via these schemes.
However, if you contact us about making a claim and we are unable to trace your employer or their insurer, we will be able to advise you on how you can get compensation by applying for one of the following schemes instead:
Pneumoconiosis Etc. (Workers' Compensation) Act 1979
If you have been exposed to asbestos at work, but your employer no longer exists and their insurer cannot be traced, you may be able to claim a lump sum payment under this act.
The 2008 Diffuse Mesothelioma Scheme
If you have been diagnosed with mesothelioma and cannot claim under the Pneumoconiosis Etc. (Workers' Compensation) Act 1979 (for example, if the exposure to asbestos did not happen in your workplace or you are unsure where you were exposed) then you may be entitled to a payment under this scheme.
Our specialist asbestos solicitors have been involved in some of the most ground-breaking asbestos cases, and they will use their wealth of experience to support you with your claim.
We operate the largest asbestos register in the UK, where those exposed to asbestos can record the details of their exposure should they need it in the future. The register also provides our experts with a unique insight into the most common places of asbestos exposure and provides us with a database of potential witnesses to support future claims.
Thompsons Solicitors is a member of the Mesothelioma UK Legal Panel, which recognises the firm's significant expertise in fighting for the rights of asbestos victims.
We are committed to only supporting the injured. We never act for insurance companies or employers, and it's been this way since we first started in 1921.
We will work tirelessly to find out how our clients were exposed to asbestos. Our extensive experience can be invaluable when we are finding out where someone is exposed or tracking down witnesses to help.
If your employer no longer exists, we can still pursue a claim by tracing their former insurer.
We have close links with support groups, such as Action Meso and Mesothelioma UK, which provide vital support and advice to those living with asbestos-related diseases, and their families.
We are experts in UK asbestos laws and regulations.
To find out more about how we can support you with your asbestos exposure claim, contact us today on 0800 0 224 224 or fill in our online claim form to discuss making an asbestos compensation claim.