Becky Hill will manage the 43-strong team at our Nottingham office
A Nottingham-based law firm has brought in a new senior manager, with 14 years' experience in the personal injury sector, to bolster the firm's renowned legal support for those who have been unfairly injured or mistreated across the East Midlands.
Becky Hill, 38, has joined national social justice law firm Thompsons Solicitors, to manage the 43-strong team at its Nottingham office, supporting specialists dealing with claims for personal injury and employment issues.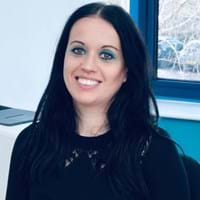 "Thompsons Solicitors' ethos of standing up for the mistreated is a natural fit."

Becky Hill
Mrs Hill worked at NatWest in customer service whilst training to be a lawyer. She was called to the Bar in 2005, after which she took on litigation roles in a number of law firms.
In 2010, she moved to the National Accident Helpline (NAH) and over 11 years worked her way up to operations director, a position she held from 2019. As well as managing NAH she was instrumental in setting up National Accident Law, which saw NAH managing its own personal injury cases rather than relying on outside law firms.
Commenting on her appointment, Mrs Hill said: "My parents instilled in me the importance of good values, and from my first job at NatWest to today, my motto has been 'do the right thing' – so working with colleagues to develop the next generation of talent has been my driver."
Mrs Hill, who has several accreditations in people management and coaching, added: "Given that every legal role I have worked in has been focussed on improving access to legal support for those who need it, Thompsons Solicitors' ethos of standing up for the mistreated is a natural fit."
Clare Mellor, chief executive of Thompsons Solicitors, said: "Becky's experience and qualifications in people management are both extensive and impressive and it is clear already that her values match those of Thompsons.
"2021 is Thompsons' century year and, throughout that time, we have only ever acted for claimants and employees, never insurance companies or employers - achieving significant legal victories for working people.
"Despite this, the challenges keep coming. We look forward to the next 100 years of safeguarding and enhancing people's legal rights, more important than ever in the context of Brexit and COVID-19, and Becky will be playing a key role in our meeting those challenges."
---
Need compensation to get you back on track after an injury? Trust Thompsons Solicitors with your personal injury claim.
If you've been injured and would like advice on whether you have a case for personal injury compensation, contact Thompsons Solicitors' personal injury solicitors today.
If you have suffered a personal injury that was someone else's fault, whether it's a slip or trip, an accident at work, in a public place or on the roads, we can help you to make a personal injury compensation claim and gain access to any rehabilitation you require.
Thompsons Solicitors' commitment to acting only for the injured is written into our partnership deed. We are among the UK's only claimant-only law firms, which means that we will represent the injured or mistreated person and refuse to act for employers or insurance companies. We know whose side we are on, and we are committed to securing a better deal for you.
Contact our friendly team of experts today for a free, no obligation assessment of whether you have a case. If you do, we'll work with you to build a solid case for personal injury compensation that takes into account all of the ways you've been affected by your injury.
If you'd like more detailed information about how to start a claim before you call, visit our How to Make a Compensation Claim page.