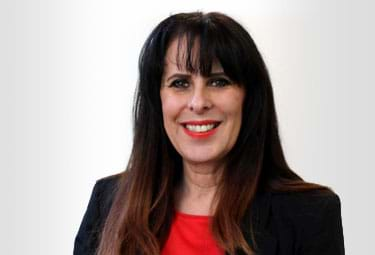 Louise Larkin
Senior Asbestos lawyer, Personal Injury Team
Liverpool
Louise Larkin is a senior asbestos lawyer in Thompsons Solicitors' personal injury and industrial disease team, overseeing the work of colleagues in Liverpool and Manchester who deal with asbestos-related disease claims. 
Louise has represented victims of asbestos-related diseases in both Scotland and England for the last 25 years. She returned to Thompsons in October 2017, having previously worked at the firm's Glasgow office. 
Based in Thompsons' Liverpool office, and covering the North West of England, Louise's main role is to supervise and support the firm's asbestos disease lawyers as well as to represent clients. Louise has won compensation for many clients suffering from mesothelioma – a fatal asbestos-related lung cancer – as well as asbestosis and pleural thickening. 
She has represented claimants in a wide range of jobs, working in many different kinds of environment. In the past, Louise has also represented clients suffering from occupational asthma, noise-induced hearing loss (NIHL) and hand-arm vibration syndrome (HAVS). 
Louise has written on current legal issues for newspapers on Merseyside as part of her commitment to inform the public about the potentially devastating impact of some forms of asbestos-related disease, and the possibility of winning legal redress. 
Louise graduated in law at Liverpool John Moores University and secured a legal diploma in Advanced Civil Court Work at Strathclyde University. She also holds an NVQ level 3 in British Sign Language, and a certificate, awarded by the Council for the Advancement of Communication with Deaf People. 
Louise is a firm believer in maximising client care, an approach which is a key part of the Thompsons ethos. Louise says the most rewarding element of working for Thompsons Solicitors is that the firm has a reputation for winning challenging cases and achieving justice for those who are victims of crippling asbestos-related diseases. 
Away from work, Louise likes to keep fit, read and enjoy fine dining. 
CASE EXPERIENCE 
Mesothelioma compensation claim: Louise represented a victim of Mesothelioma, who was a full-time carer for his wife, who suffered from dementia. Louise secured nearly £700,000 in compensation from Liverpool City Council to fund his wife's future care. The compensation was won during the claimant's lifetime. 
Mesothelioma compensation claim: Louise also acted for a profoundly deaf couple. She represented the man who was suffering with Mesothelioma and, later, his wife, following the man's death. Louise was able to use British Sign Language to act as an interpreter while representing them. 
Asbestos claims: She has also secured casework related to asbestos with Disability First.
PROFESSIONAL MEMBERSHIPS 
Louise is a Member of the Law Society panel and has accreditation with the Association of Personal Injury Lawyers (APIL) as an asbestos and occupational disease specialist and senior litigator. She is also a member of asbestos victim support groups covering Merseyside, Cheshire and Greater Manchester.